La Garagista

Barnard, Vermont

La Garagista is located on Mount Hunger at the edge of the Chateauguay forrest in the Piedmont chain of hills in Barnard, Vermont.
They produce terroir expressing alpine wine and ciders. The land has been part of small homestead farming for over two hundred years and Deirdre Heekin and Caleb Barber have owned the property since 1998. The farm is tended with care and observation of the native terroir, a whole-farm and diverse agriculture where not only grapes are grown but also vegetables, fruits, flowers, and herbs. This is all used in the tiny Hart Tavernetta Bar a Vin in the old garage winery for lovely and frequently spontaneous pop-up and supper club events.
La garagista Farm + Winery began in 1999 with initial efforts at gardens whose produce was used at Deirdre and Calebs long-standing Osteria Pane e Salute which they ran for twenty years in the village of Woodstock, Vermont. The winery opened its doors in 2010 while the restaurant was closed in 2017 in order to focus attention solely on the farm and winery. Deirdre is winegrower, organizer, writer, photographer, flower farmer, would-be designer while here husband Caleb is generally responsible for the gardens, cooking, design, building, mechanics, factotum, philosophy, overall farm management. Camila, the assistant winegrower, is grower, organizer, creator, systems manager and right hand.
Wines are produced from grapes grown in four distinct vineyard parcels: the home farm vineyards "les bonnes femmes", and a joint project just across the road "les forestieres", and two older parcels of vineyards in the Champlain Valley "les carouges" and "i selvatici". The work done at the farm both in the field and in the cellar, is guided by organic, permaculture, and biodynamic thought. The goal is to let all elements of the farm speak for themselves accompanied by minimal intervention stewardship. The mission is to care for the land in creative and natural ways this in turn makes way for the honest narrative told by the wines and ciders.
"We are farmers. Just like the garden spills into the vineyard, and the roses spill into the orchard, we always have a flow of creative people who lend their skills, thoughts, and energy to the project at hand whether its pruning, planting new vines, turning new beds, or harvesting. For them, we are forever thankful. These are the hands and hearts that make La Garagista." Deirdre Heekin


Press from the New York Times:
"But what if hybrids were farmed as carefully and conscientiously as the finest vinifera grapes in a historical vineyard? And what if those grapes were lovingly and naturally handled in the cellar, with no additions or subtractions, to bring out their best expressions? Though it's not exactly her
intention, Ms. Heekin and her La Garagista wines demonstrate that wines made of hybrid grapes can not only be deliciously satisfying but can also show a sense of place." -Eric Asimov

La Garagista is a small winery that releases wines throughout the year. Their production does not meet demand, so please contact us for current and upcoming releases.

Cybele (La Crescent, Methode Champenoise)
Ci Confonde White (Briana, Pet-Nat)
Grace & Favour (La Crescent, Pet Nat)
Ci Confonde Rose (Frontenac Gris, Pet-Nat)
Ci Confonde Red (Marquette, Pet Nat)
House Music (Red Field Blend, Pet Nat)
TiQuette Red (Marquette, Piquette Pet-Nat)
She Can Find The World So (Sparkling Red Pet-Nat)

Harlots and Ruffians (La Crescent, Frontenac Gris)
Loup d'Or (Brianna Sur-Lie in Demijohns)
Arlette (Frontenac Gris)
Vinu Jancu (Skin Fermented La Crescent, ORANGE Wine)
Lupo in Bocca (Frontenac Gris Rose)

Damejeanne (Marquette)
Loups-Garoux (Frontenac Noir "Ripasso")
In a Dark Country Sky (Marquette)
Native Love (Red blend with touch of RS & mild fizz)

Fleurine (Frontenac Gris + Cidre)
Stolen Roses (Cidre mousseaux ferm on Marquette skin)
The Flesh and The Bone (sparkling cider + wine)
Bouleverser (Cidre mousseux)
The beginning of a Memory (Sparkling pear + apple cidre)



Clos de la Bonnette

Condrieu, Northern Rhône

At Clos de la Bonnette, gnarled vines are staked with traditional chestnut poles to tether them against the strong currents of the wind. Buffeted by a scorching summer, the vines drive roots deep into the granite. It took centuries of thirsty work to build these dry stone terraces, using stones dug out of the hillside with a mattock. The Guiller-Montabonnet family finds their place in this labor of devotion, as they worked to rescue overgrown vineyards from oblivion. Their philosophy of terroir includes the arts of the Rhône, and their farm life always is blessed by the voices of Rhône poets, musicians, and artists, from the present as well as the past.

Current wines:
Viognier "L'Archette"
Condrieu "Roc d'Ucarisse"
Syrah "Cisselande"
Côte Rôtie "Damas Pourpre"


Domaine Coste Chaude

Visan, Southern Rhône
Domaine Coste Chaude is currently owned by Vincent Tramier who purchased the property from Swiss ex-pats Marrianne and Marc Fues in 2018. The Fues' converted the domaine to organic production and became certified by Ecocert is 2014. Vincent continues these farming practices and is now moving Coste Chaude towards biological certification. The Domaine is located on the plateau of the Southern Rhône village of Visan and is comprised of 37 hectares (91 acres), 23 hectares (57 acres) of which are devoted to vines that are planted at an altitude of over 360 meters (1181 feet). Grenache is the main red varietal, followed by Syrah and a small amount of Mourvèdre. Three white grape varieties, Viognier, Roussanne and Grenache blanc were planted in 2012 as well. The Visan plateau poses a very particular terroir; a mix of soil types (yellow ocher, brown marls. pebbles & stones over a base of limestone & alluvium), microclimate (the plateau is typically cooler than the valley) & sun exposure (all vineyards are south exposed). The aspiration is to reflect these unique qualities in the wines and getting healthy grapes is fundamental to this philosophy.

Wines available:
"Triology" Blanc (1/3 Viognier, 1/3 Roussanne, 1/3 Grenache Blanc)
"Florilège" Côtes du Rhône (70% Grenache, 30% Syrah)
"Madrigal" AOP Côtes du Rhône Villages Visan (80% Grenache, 20% Syrah)
"La Rocaille" AOP Côtes du Rhône Villages Visan (80% Grenache, 20% Syrah)
"L'Argentière" AOP Côtes du Rhône Villages Visan (80% Syrah, 20% Grenache)
Frédéric Mallo

Hunawihr, Alsace

The Mallo Winery is family-owned and currently in its fifth generation. Nestled between Ribeauville and Riquewihr, the picturesque and historic village of Hunawihr is home to Mallo wines. Frédéric Mallo, the first producer in Hunawihr to bottle his own wine, illustrates the winning combination of traditional values and pioneering vision that characterizes the winery.
Vineyards: 8 hectares (20 acres) of grapevines located in the heart of Alsace wine growing region. At an average elevation of 259 meters (850 feet), the rich, mineral soils provide for an exceptional terroir. Premium vineyards are located in the Rosacker and Mandelberg Grand Cru areas, and include 50+ year old vines. The family continues to use traditional European methods on the wine grapes they farm. Yields are carefully controlled throughout the season, and all grapes are hand-picked and crushed whole. Commitment to the environment extends beyond sustainably/organically grown grapes to the reintroduction of the endangered white stork (cigogne) in Alsace.
Wines: The winery produces all seven "Appellation d'Origine Contrôlée" Alsace varietals. 30% of the wines are Riesling, 25% Gewürztraminer and the remainder is split between Pinot Blanc, Pinot Gris, Pinot Noir, Muscat and Sylvaner. The winery is especially proud of its award-winning Rosacker and Mandelberg Grands Crus, Vendanges Tardives and Selections de Grains Nobles.

Wines available:
Cremant d'Alsace
Sylvaner
Pinot Gris Traditional
Gewürztraminer 'Cuvee Saint-Jacques'
Riesling Traditional
Riesling Rosacker Vielles Vignes
Riesling Rosacker Vendanges Tardives
Riesling Rosacker SGN 500ml



Tenute Dettori

Sennori, Sardegna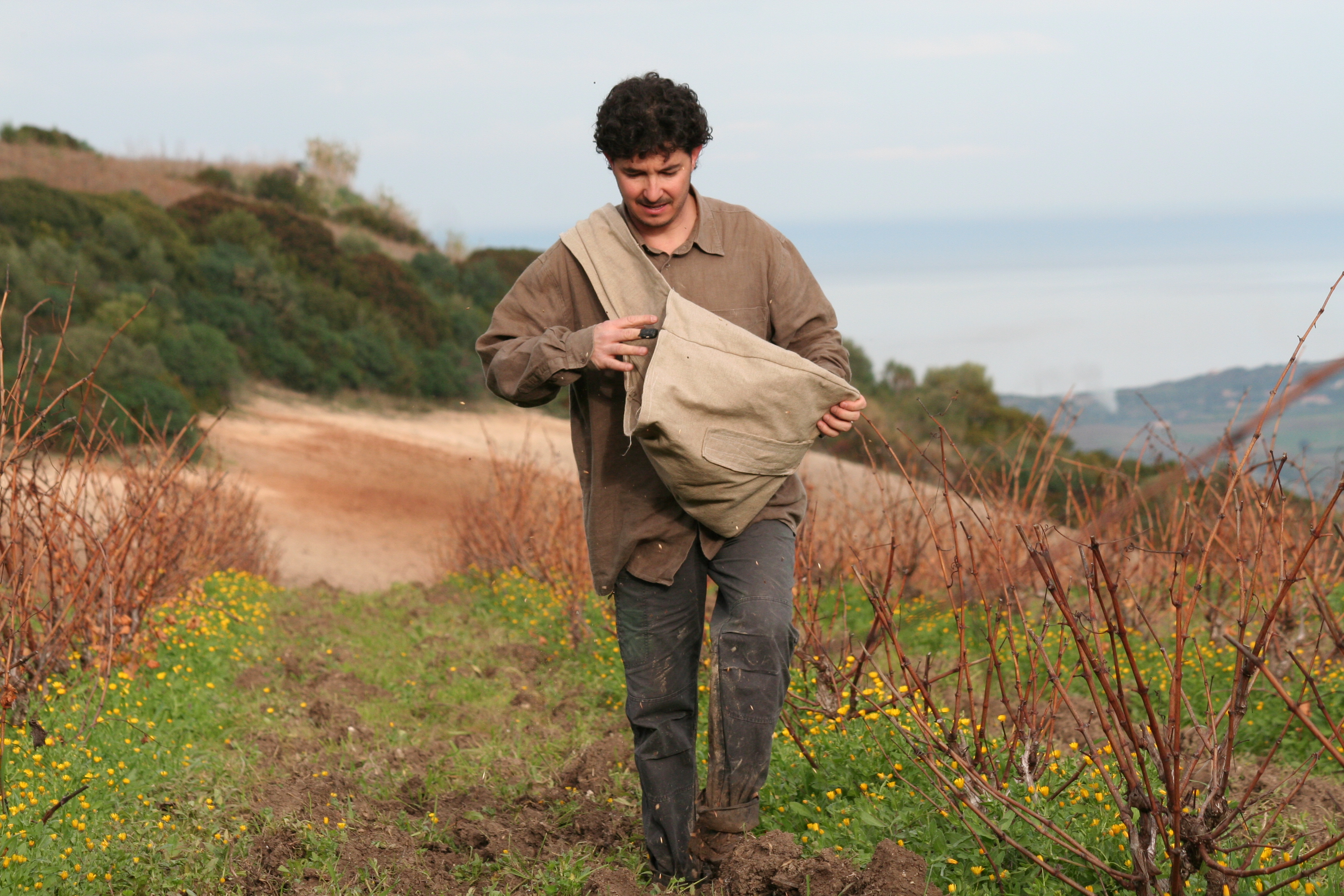 To make natural wine is not a trend for Alessandro Dettori, but rather the soul of his family's work since 1860. Alessandro was just a boy of 12 when he began to work with his grandfather. In Romangia, the region of northern Sardegna that includes Sorso and Sennori, the vineyards have been so prized from ancient times that they were consistently protected from destruction during various conflicts, including by Napoleon. The terrain is more rugged in the North; it is a form of meditation for Alessandro to observe the hawks that wheel above his mountain walks. Sheep and wild boar are part of the area's biodiversity, and the vineyard rows are home to aromatic herbs and indigenous berries that attract pollinators. Dettori has 26 hectares under vine, many of them more than 100 years old. With alluvial limestone and gravel so similar to that of the Southern Rhone, the soil in Romangia is often compared to that of Chateau Rayas.

This brings us to the usual questions: is cannonau grenache? Yes and no. Historical mentions of cannonau predate all records of France's grenache. French grenache was certainly eventually brought in, and did very well, thanks to the soil, which was clearly ideal. There were certainly crossings and clonal variation over time, but Dettori's vines, over 100 years old, represent the original, ancient cannonau. The ancient clone is distinguished by particular flavors and aromas of herbs and cola. In terms of the preservation of indigenous grapes, Alessandro is equally devoted to Vermentino. Alessandro, with his quiet, professorial mien, can talk about Vermentino for hours, and he sits on the Vermentino tasting board. He shares his love of history with his wife, who works at an Etruscan museum. Not looking to impress anyone, Alessandro is a family man who simply carries the torch of Dettori's history. His Demeter-certified wines are unfiltered and unfined, and Alessandro gives much support to all the small producers who seek to make quality wine on this singular island.


Subcategories