Tenuta Terraviva

Colline Teramane, Abruzzo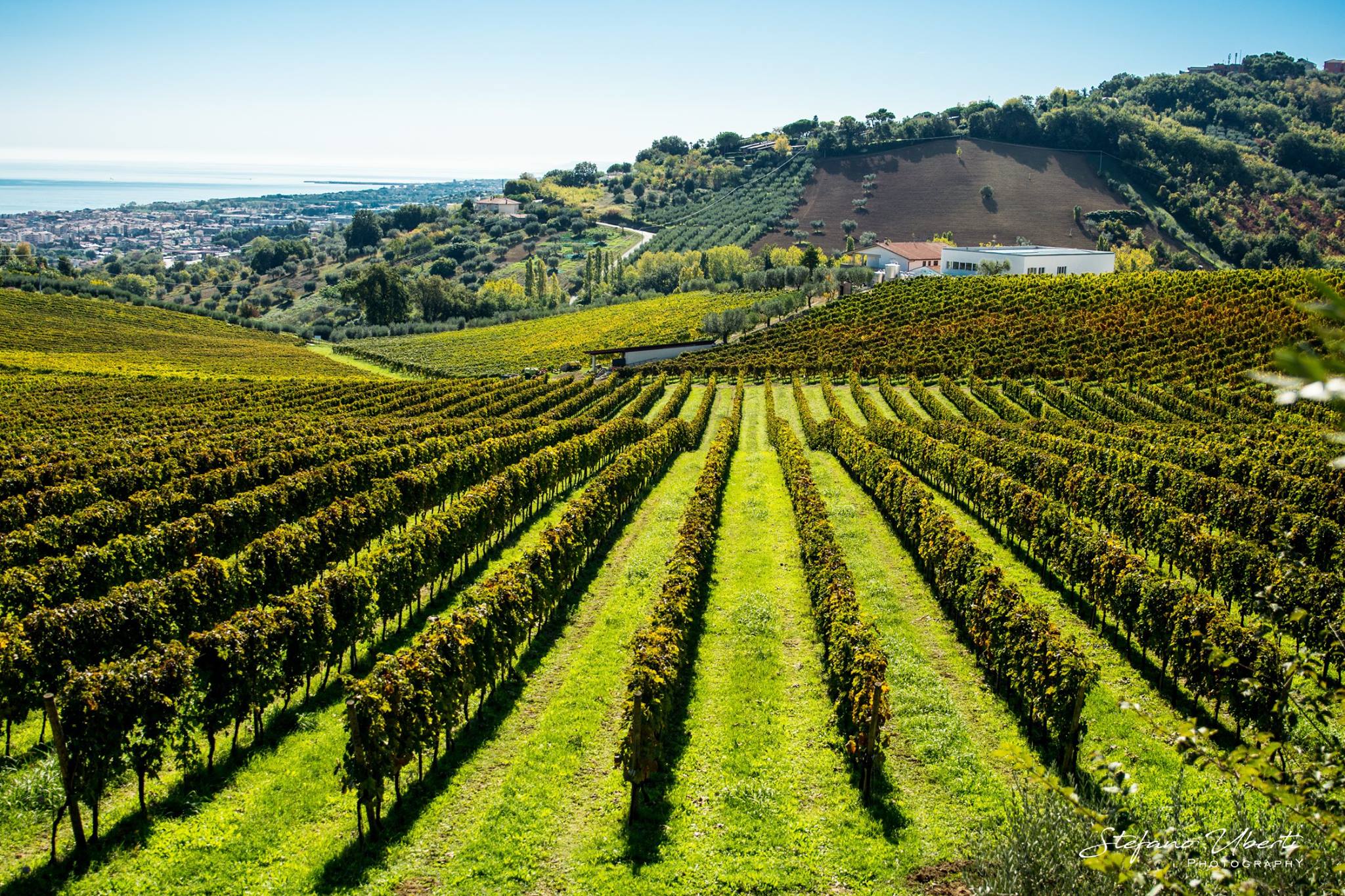 Terraviva Winey was born in the late 1970's in Colline Teramane appellation of Abruzzo. The vineyards, 22 hectares (54 acres) in Tortoreto, are framed by the Grand Sasso at one end and the Adriatic Sea at the other. Arranged like an amphitheater facing the sea, the vineyards are kissed by a climate that manages to balance the sea breeze and the cold currents of the Grand Sasso. The surrounding hills shelter the vineyards from the extreme currents and temperature variations between day and night mean that the grapes ripen slowly, respecting their natural rhythms.
The vineyards have been certified organic since 1998. In 2020 they started with biodynamic practices, being passionate about the concept that agriculture should be in harmony with nature, men and earth. Given the biological activities, the soils are vital, the plants grow naturally and they are nourished by the ecosystems and the soil.
Prior to 2008 all the grapes were sold to local coops and other producers. With their first vintage in 2008 under their own label they decided to vinify each plot separately to represent the micro terroir where the vines are grown. This philosophy of hyper focus on region and farming extends to the native grape varieties they grow in their vineyards: trebbiano, pecorino, passerina and montepulciano. Their pecorino terraviva was awarded with the Best Value for your Money prize from Gambero Rosso in 2023.

Wines available:
Trebbiano d'Abruzzo
Pecorino
Passerina


Müller Grossmann

Furth-Palt, Kremstal
The Müller Grossmann winery is located in the town of Furth-Palt, south of the town of Krems and the river Danube. Here the family cultivates 10 hectares (24.7 acres) of vineyards around Göttweiger Berg. The winery is certified sustainable and in 2021 they began the transition to organic farming. Helma Müller-Grossmann started the winery in 1986 and was joined by her daughter Marlies in 2009. Marlies Hanke now runs the winery, in a continuation of Helma's tradition.
The southern Kremstal is a very diverse wine-growing region. This is thanks to the great varietys of soils and the natural interplay of warm and cool nights. Rather cool and damp influences from the nearby Waldviertel meet the warm and dry influences from the Pannonian lowlands, juicy white wines famous for their finesse grow on the gravel and loess soils, especially
Gr
ü
ner Veltliner and Riesling. The wines have been made in the traditional underground wine cellar on Fuchastrasse for more than 90 years. Natural cooling from the underground structure and natural yeasts are two arguments that led to the renovation of this traditional cellar. The wine cellar was expanded by adding a warehouse that now offers more flexibility in the production and aging. The shape of the building and the wooden facade blends in seamlessly with the townscape and represents the combination of tradition and modernity. For Marlies quality begins in the vineyard. Great wine can only come from perfectly ripened grapes. In the cellar her motto is "less is more" as most of the work has already been done in the vineyards.

Wines available:


Gr

ü

ner Veltliner Satz Viertel
Riesling Furth

Domaine Vaquer
Tresserre, Roussillon


Lyle Railsback, France+Western Importer: "Sometimes the best things happen by accident. And so it was with reconnecting with Frédérique Vaquer and her delicious, high-elevation Roussillon masterpieces.
Located in the Pyrenees mountain town of Tresserre at 650 feet elevation, from Domaine Vacquer you can see down to Collioure and the Mediterranean sea. The vicious Tramontane wind of the region whips through Frédérique's garrique-covered vines, including old plantings of Carignan, planted just after WWII en gobelet (bush vines planted close to the ground) and worked without machines, only by hand.
As in Collioure and across the border in Spanish Catalonia, Rancio-style Rivesaltes is the more historical wine of this area, which is often compared to Vin Jaune of the Jura, aging sous voile to protect it from total oxidation. While a small amount of textbook solera Rivesaltes is still made at the Domaine Vaquer, since Frédérique studied in Burgundy she is consequently fixated on terroir-revealing elegant reds and dry, saline whites with a remarkable sense of precision beyond what you'd expect from the region.
Her new releases are brimming with energy, and with our US allocation she has generously agreed to part with some library bottles from her cellar that show the incredible aging potential of her terroir, so we will have several cases of 1985 and 1986 to offer this year. We shared a bottle of her 1985 Rouge at Bistrot Paul Bert in Paris and I would have believed that it was an older Vieux Télégraphe from a great vintage with pristine provenance."

Wines avaialable:
Côtes de Roussillon Blanc
Rivesaltes
Cuvée Bernard Vaquer
2017 Côtes de Roussillon
2013 Côtes de Roussillon
1986 Côtes de Roussillon
1985 Côtes de Roussillon

Franchino
Gattinara, Piemonte


Mauro Franchino, helped by his talented nephew Alberto Raviciotti, is producing distinctive Gattinara from 3 plots in some of the best vineyards in the appellation.
100% Nebbiolo planted in the vineyards of Lurghe, Castelle and Guardia. These vineyards offer very shallow, acidic soils derived from the decomposition of the porphyry of the alps.
He crafts his wine in a very old cellar in the center of Gattinara, following traditional methods taught to him by his father.
Mauro is a skilled artisan with a reverence for his land and its viticultural traditions and combines his experience in viticulture and winemaking along with a great palate to interpret the best from every vintage.

Wines available:
Gattinara DOCG
Gattinara Riserva DOCG
Jean-François Jacouton
Saint Joseph, Northern Rhône

Lyle Railsback, France+Western Importer: "My heartfelt thanks to Jean Gonon, who with his brother Pierre has turned the Saint-Joseph appellation on its head, and who is one of the most joyful vignerons I've met in France. Jean was kind enough to introduce me to some new names in St Joseph, who this past April I met with and tasted. Of them, one stood out as the clear winner, and whose work we are thrilled to introduce in America: Jean-François Jacouton.
As a young boy, Jean-François worked alongside his grandfather, in their family parcels in the Saint Joseph lieu-dit Sainte Epine (just above Raymond Trollat's legendary old vines which now go into Gonon's Vieilles Vignes bottling) in the village of Saint-Jean-de-Muzols. Jean-François fully took over the family vineyards in 2003, while also working in Côte-Rôtie, Hermitage, and Savoie, and then began Domaine-bottling in 2010. His Saint Joseph holdings include older vines (in lieux-dits Les Goutelles, Verset Est Paradis, and Tinal) that produce a stunningly dense Saint Joseph Rouge he labels Pierres d'Isserand. Farming lutte raisonnée with horses and hand plowing, Jean-François is a true vigneron, spending almost all of his time in the vines. He is also reconstructing some of the old stone terraces that went to forests after phylloxera, similar to what Thierry Allemand is doing in the Chaillot terraces of Cornas.
Jacouton also still farms apricots, cherries, and peaches (which has been the history in this region with Verset, Chave, and others) so beneficially his wine cellar is an old fruit warehouse on the granite plateau above the vines. The temperature of this cellar can be dropped to zero degrees Celcius, allowing him to work with lower levels of SO2 while maintaining cleanliness and precision. His vinification and aging is in cement, amphora, demi-muids, and larger foudres, and done parcel by parcel using only 15-25% new wood so the whites are sexy and polished but still show restraint (a tiny production of Condrieu being in the earlier-harvested school of raciness and minerality), the reds are classic and old-school but also clean and precise, the older vines having more density, chewiness (also with greater inclusion of whole bunches) and ageability. His entry-level IGP cuvées come from lieux-dits above Vion (the red at 120m-390 meters and whites up to 428 meters of elevation) and might be the best value wines I have tasted from the region."

Wines avaialble:
IGP Collines Rhodaniennes Blanc "Cuvée Granit"
Saint Peray Blanc
St Joseph Blanc "Souvenir d'André"
IGP Ardeche Rouge "Cuvée A Deux Pas"
Syrah
Crozes-Hermitage
St Joseph Rouge "Sortilège"
St Joseph Rouge "Pierre d'Isserand"


Subcategories